Celebrating 3 years in business
December 10, 2015 by Team Phaeria
Today, Phaeria is celebrating 3 years in business! All this period we've helped local businesses to improve their online presence. We've used all our experience and skills to deliver projects, platforms to amazing companies.
We love the people that we work with and we love what we do. A huge THANK YOU for all the support our clients have given.
We've decided to celebrate by doing what we do best: help businesses improve their online presence!
You and anyone you know may win one of the following prizes:
3 Website Audits
We'll be honest, as usual, telling you what it works and what needs to be improved on your online presence.
2 Website Optimisations
The code behind the website can affect your website speed. We'll aim to receive a 90% PageSpeed Score, just like our website performance report.
1 CMS Responsive Website
Every website should be responsive, we'll build you a brand new mobile-friendly website.
To join our competition, all you have to do is like our Facebook page, follow us on twitter or contact us. If you know anyone that might be interested to win any of the prizes, feel free to share this.
If you're not interested on any of our prizes but you would like other services we may provide, please contact us!
We are also thankful to everyone who is and was part of our team, families and friends who were supportive in the last 3 years. We've built great relationships already, and we're looking forward to strengthening, waiting with joy the future filled with exciting projects and new clients.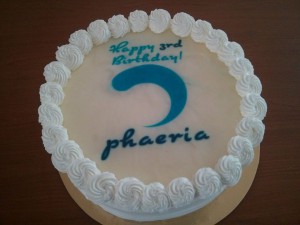 The celebration has only just begun!